Healthcare's Path Forward: How Ongoing Crises Are Creating New Standards for Excellence
by Thomas H. Lee, MD, Chief Medical Officer at Press Ganey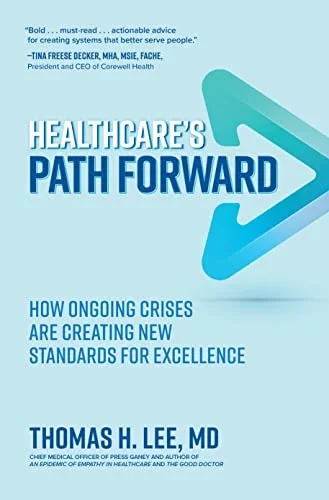 From the author of The Epidemic of Empathy in Healthcare and The Good Doctor comes a book that explores how the pandemic and other crises revealed what excellence in healthcare truly means and presents an action plan to achieve it.
The goal of healthcare has always been to reduce suffering, but three perfect storms of recent years—the health storm produced by the Covid-19 pandemic; the economic storm that resulted from its disruptions; and the social storm that followed the murder of George Floyd, which sparked fresh outrage at longstanding inequities—have sharpened and added important nuances to our understanding of what that means. In Healthcare's Path Forward, Thomas Lee explores how the work of healthcare is being transformed by a deeper knowledge of what suffering means for patients, their families, and healthcare providers themselves. To respond, healthcare organizations must:
deserve, earn, and build the trust of patients
deserve, earn, and build the trust of the healthcare workforce
build a resilient, high reliability culture with a broadened concept of safety
build an inclusive culture that treats every patient and every employee with respect
extend patient-centeredness to embrace consumerism, and work relentlessly to remove friction from the patient experience
respond to the imperatives of the new marketplace for high-value care focused on long-term outcomes
Lee uses data to demonstrate trends and insights into how health systems can thrive, offers examples of organizations making major advancements, and provides specific, practical recommendations for healthcare leaders, clinicians, and other caregivers. This book is a thoughtful, impassioned call to work toward excellence and forge healthcare's path forward—together.